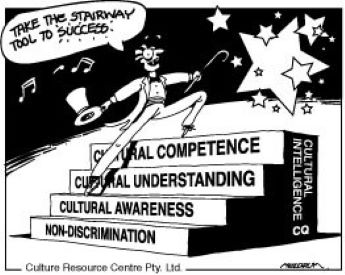 cultural column

Email This Post
An Australian System Expert told us once that when she first met her counterpart from an Indian outsource organisation, he called her 'Sheila'. When she asked him why he had called her Sheila, he stated "in our preparation course about Australian culture we were told that Australian women are called Sheila". Perhaps we need to reflect on the depth of the training that had been delivered to this global professional – he had not made a good first impression!
Globally Sophisticated and Flexible Professionals
Matthew Szulik, Chairman of the Board and former CEO of Red Hat Inc, once commented, "Workers are really struggling to compete in a new globally competent workforce. Workers hired from higher educational environments struggle with effective collaboration in global business reality, adapting quickly to change, being flexible in working with people from diverse cultures towards a common goal, realising the global implications of their actions, inability to work at fast pace, lack of innovation and willingness to embrace life-long learning as a necessity in fast-paced business". I like to summarise a major part of this struggle as the lack of cultural competence.
Are you also struggling to hire "globally sophisticated and flexible" professionals to deal with the complexities required to work across cultures? Australian organisations are very much part of the global business environment with China, Japan and South East Asia being large trading partners. With Australian off-shoring and outsourcing vendors from India, Malaysia and Philippines, Australian staff require cultural skills and competence, including international sales and marketing, cross-cultural communication, global partnership development, the management of virtual multicultural teams, and global leadership strategy.
Competing in the War on Global Talent
What can we do about the struggle to hire 'globally sophisticated and flexible professionals' that Szulik refers to? We need to concentrate on two specific areas: Recruitment and Learning & Development.

Firstly, in recruitment we need professionals that are capable of adequately designing global recruitment strategies and approaches, selecting appropriate staffing strategies, and defining the required identifiable and measurable global competencies of their future recruits. Global competencies cannot be practised during university lectures: competences develops over time, building on formal education – thus international experience is paramount, being accountable for results, and an interest in effective ongoing learning. Organisations can help drive this by first of all recruiting global talent that have their formal accreditation for modules such as cross-cultural management, intercultural communication and international business – international experience then helps translate the theory into practice.

Secondly, in learning & development we need those professionals that are capable of mapping and understanding the required skills, know-how and attitudes. Who can select the appropriate training, coaching and consulting services to further prepare global talent in developing their intercultural competence and a global mindset to be ready to compete in the globally competent workforce.
Understanding the requirements
One strategy to understand the requirements is the Stairway for Developing Cultural Intelligent People, Teams and Organisations®: it incorporates different intercultural learning and development needs of professionals depending on frequency, intensity and complexity of their intercultural interactions. We differentiate:
– Recognising cultural differences as the ability to distinguish between different cultural values, behaviour and practices;
– Managing cultural diversity as the ability to understand and deal with cultural diversity to motivate others in meeting business objectives; and
– Leading cultural diversity for high performance as the ability to create new settings by influencing behaviour within people, teams & organisations through Cultural Intelligent practices, and Global competence to out-perform. With help of the stairway tool, organisations are better able to not only attract, but also retain their globally sophisticated and flexible professionals in the growing competitive 'war' on Global Talent.
Preparing your Global Talent
We should have moved beyond teaching simple 'cultural do's and don'ts' and stereotypical country briefings which can result in embarrassing situations such as the 'Sheila' name calling. By using mapping tools, learning & development services, and sophisticated (on-line) reference resources, many organisations have realised the benefits of life-long cultural learning, which informs, develops and prepare your global talent for competitive advantage in the war of talent.
_________________________________________
Joost Thissen, Partner & Interculturalist
joost@cultureresourcecentre.com.au
cultural column

Email This Post