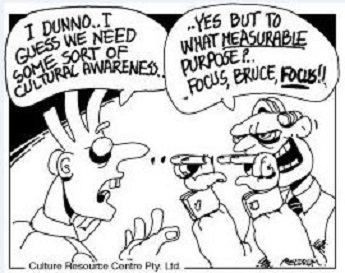 According to a McKinsey Quarterly survey report1 about the value of training, of the organisations which participated in the survey and were spending resources to develop highly capable employees, 90% said that 'building capabilities' was a top-ten priority for their organisations. Only 25% of survey respondents said that their programs were effective at improving performance and only 8% tracked their programs' return on investment.
Increase the Value of Cultural Training
So how do we increase the value of organisational training programs, and how does this relate to training which builds capability in the area of Cultural Intelligence? Many requests for cultural training begin with the broad need to 'increase cultural awareness'. This might come about, for example, because employees might work in multicultural teams, are required to work with overseas located clients, are posted overseas to an office in another country (eg on secondment/transfer), or part of the business that is off-shored. In all instances, employees are required, in some capacity, to work with people from different cultural backgrounds.
Often the managers responsible for sourcing cultural training services lack the time or skill to analyse the aspects of performance which need improvement within their organisation e.g. intercultural communication, leadership across cultures, operating in multicultural or virtual teams, and instructing staff from other cultures. As intercultural learning and development specialists, we see cases where management know too little about cultural training needs to make informed training choices which have a direct correlation with the area that requires improvement. Recognising that their staff, clients or partners might differ in skin colour, race, accents and communication style – is simply not enough information on which to design an effective cultural training program.
Follow a Process and set Clear Objectives
To increase the value of cultural training it is important to follow a process and set clear objectives. Identifying which part of performance needs improvement, defining the key performance-enhancing skills and competencies required, and linking these to specific learning outcomes is key to the success of any program. Careful selection of people who would benefit most from skills enhancement to improve performance is also critical. By following this type of process, learning objectives guide the design of the training and increase the effectiveness of training outcomes.
According to McKinsey, "Picking the right metrics is the key to creating real value from training." Performance needs to be clearly defined in order to put a value on training. Questions that will assist include:
What are the skills and intercultural competences required?
Who should receive this training? and
What are the relevant leaning outcomes?
Hard Metrics
To measure the value of cultural training it also important to evaluate hard metrics that impact on other areas of the business. These include e.g. customer satisfaction, customer relationships, staff turnover, sick leave, team productivity/output, quality assurance, career advancement, sales, and quality of decision making.
Training which raises cultural awareness is an excellent tool to map some cultural differences but is often seen as 'a nice to have'. Where organisations want to really improve performance, build global acumen and develop the intercultural competence set, training programs need to go beyond basic cultural awareness. To actually bridge cultural gaps and build the competence to integrate these differences requires training which incorporates developing specific intercultural competencies and regular practice of new skills. Implementing culturally effective work practices are an essential part of the intercultural competence set of a manager or professional who works across cultures. Integrating cultural differences through the development of effective work practices (for example, through (team) coaching) can be an important step in the process of making the investment of cultural training effective and measurable.
A Case in Point
We were approached by a multicultural service organisation experiencing high staff turnover, high rates of sick leave, and low employee satisfaction. Based on anecdotal feedback and customer complaints, cultural differences were highlighted as a key issue. In response we designed an online Training Needs Analysis to explore the cultural challenges, concerns and experiences. When analysing the information we were able to identify what was missing in terms of cultural performance-enhancing skills and competence for both staff and management.
Specific learning outcomes were defined and the organisation's human resources department identified the metrics to evaluate training effectiveness. Effectiveness was measured by achieving a reduction in percentages points for staff turnover, sick leave, customer complaints, and a specific increase in employee satisfaction. Over a one month period in one subsidiary, we facilitated training for 220 staff and management. On completion of this pilot project, all of the identified objectives were successfully achieved. Interestingly, the number of customer complaints dropped significantly and complaints related to cultural challenges were down to zero! So successful were the results that the other subsidiaries of the organisation have requested that their staff and management complete the same training.
This example illustrates the value in setting clear objectives to maximise the effectiveness of training outcomes which can have an inspiring positive organisational change.
Footnotes
Cermak J & McGurk M, July 2010, 'Putting a value on training', McKinsey Quarterly (the business journal of McKinsey&Company),see Visitor Edition.
_________________________________________________
Joost Thissen is a Founder and Partner of the Culture Resource Centre.
Contact Joost directly at: joost@cultureresourcecentre.com.au