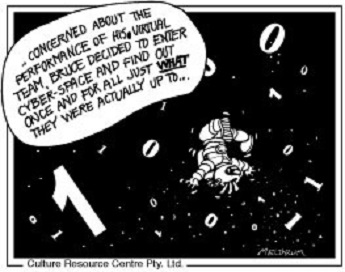 cultural column

Email This Post
Virtual teams are an accepted and necessary aspect of global business. They allow organisations to leverage competent professionals without them having to be in the same physical location. Joost Thissen of the Culture Resource Centre believes that having these professionals located in different areas around the world can enable organisations to capitalise on changes in the marketplace, introduce new products, innovate and respond to customer needs. Advances in technology continues to drive the popularity of global and virtual teams, allowing organisations to save both time and money. However professionals' competence to build trust across cultures, time zones and borders seems to often to be a forgotten issue. It needs to be addressed to make use of the benefits of working virtually.
Companies Are Out Of Touch With Virtual Team Performance
Studies (DeRosa & Lepsinger, 2010) report the astounding finding that many companies are unaware when their virtual teams are under performing. Despite often significant investment to establish such teams, many companies fail to take the time post-establishment to focus on enhancing virtual team effectiveness and productivity. It seems that many organisations simply recycle the same 'traditional' processes, guidelines and practices used for co-located teams (i.e., face-to-face teams), which are quite different. Co-located teams and virtual teams need a unique approach for engagement, communication and collaboration in a virtual work environment.
Organisations wishing to maximise their investment in virtual global teams need to invest in specific processes and strategies for:
overcoming geographic barriers and possibly different time zones
managing culturally diverse teams – members may speak different languages, and have different leadership styles preferences, and
using advanced technology to interact and communicate virtually.
Individual team members also require attention, because they also face a number of specific challenges, such as:
a lack of face-to-face contact
a lack of resources
time zone issues
incidences where team members work on more than one team
team members failing to share relevant information, and
poor provision of training in specific competency/skill areas.
Case Study On Virtual Team Trust – India Versus Australia
During a recent virtual team coaching session in India regarding 'Effective Virtual Teamwork' we asked the group the following question: "How would you respond if management from your overseas head office tried to obtain an update about a project where the progress was not all together positive?". The response from our Indian participants was interesting but not unexpected (the Head Office, which was located in Sydney, had actually raised this issue with us prior to the training). A few of the comments included: 'I wouldn't respond at all' … 'I would only mention the good things' … or … 'I would refer the matter to someone else'.
The answers were accompanied by uneasy laughter. It was clear from the responses provided that the team members located in India were unlikely to share what was actually going on with the project.
Trust across cultures
So, what then makes the exchange of information in this particular case so challenging? Basically, the effective exchange of information is dependent on trust. Trust as a concept, however, differs enormously between countries and across cultures and therefore trust will also be challenged when people collaborate virtually.
The Indian participants in the above example indicated in our discussions that trust is something that is built up over time and is dependent on established interpersonal relationships not virtual relationships (i.e. interpersonal trust). People further commented that only once a relationship is established, can trust be developed and the exchange of information becomes 'more open'. At the head office in Sydney, team members indicated that for them, trust is based on the professionalism to complete a task on time, regardless of the location and type of working relationship (ie task-related trust). In Sydney, once a team member had delivered on a task, it meant that they had proved that they can be trusted.
How to improve the virtual trust
A lack of understanding of the cultural differences about how trust is gained in a virtual work context can result in expensive miscommunication and challenge the effectiveness of virtual teams. When composing a team, particularly one that includes people who work virtually, some key considerations to look at include:
How stable is the team membership?
How many people are in the team?
Do members share professions or are they cross-functional?
How are issues and conflict dealt with/resolved?
How is team member effectiveness measured?
Communication and training
Another area of concern in a virtual team environment is communication and training. How will an information exchange take place, and who is responsible? Which technology is most suitable for this exchange of information? How often should virtual teams meet (virtually)? What are the relevant training skills for virtual team collaboration and communication? What is the role of leadership? What are the preferred traits for leaders who manage virtual teams, and finally, what sets leaders from high performing virtual teams versus low performing teams apart?
Final comments – a layer of complexity
Virtual teams add a layer of complexity to managing across cultures. It is clear that, for virtual teams and their leaders to be effective, they require advanced interpersonal skills and an ability to communicate across cultures. As discussed in this case study, building trust is a key issue that needs to be considered. Understanding the difference between interpersonal trust and task-related trust is vital for virtual teams to be able to work together while being apart. Understanding the cultural impact for virtual teams is an important investment in business effectiveness.
_________________________________________
Joost Thissen, Partner & Interculturalist
joost@cultureresourcecentre.com.au
cultural column

Email This Post