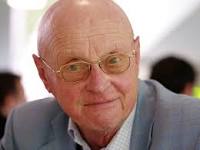 Geert Hofstede, professor emeritus of Organizational Anthropology and International Management, passed away on 12 February 2020 at the age of 91. Geert Hofstede is famous for the development of his theory of cultural dimensions. He has been called a cross- cultural icon as well as being well characterised as a generalist – as one who builds bridges between fields such as psychology, anthropology and business management. I will also remember him as a lecturer, a mentor, a family friend, and a mighty interesting person. He will be sadly missed – we will help carry his torch in the field of cross cultural management.

I like to share a wonderful in-depth interview with Geert Hofstede discussing the main aspects of his work (interviewer is Vladimir Bartelds, June 2010.
I also like to point you to a biopic documentary by Marcel Siegmund and Iekje Smit (2014): a personal portrait of  Geert Hofstede and in it, he tells us about his personal and professional life and reflects on the relationship between the two. He shares with us the experience of a lifetime, focusing on the past and including his ideas on today's developments.
Joost Thissen, February 2020.