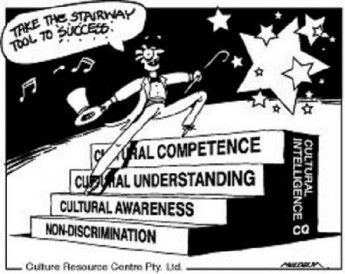 In my ongoing quest to support People Leaders to become more effective when interacting with and managing professionals from different cultural backgrounds I recently came across a number of interesting findings.
Trapp  in his Forbes article 'Why Successful Leaders acknowledge Cultural Differences' for instance refers to Meyer who says that "in the age of globalization, acknowledging – and understanding – cultural differences is more important than ever". Nothing too over excitingly novel there. However she then continues "What's new is the requirement for twenty-first century leaders to be prepared to understand a wider, richer array of work styles than ever before and to be able to determine what aspects of an interaction are simply a result of personality and which are a result of differences in cultural perspective". Consequently she argues "the leader who can see the increasingly diverse workforce as both individuals and as products of different ways of life stands a greater chance of being a more successful people manager". I would like to add to Meyers great observation that people leaders should first develop the cultural competence to be able to distinguish between personality and culture.
"People leader should first develop the cultural competence to be able to distinguish between personality and culture"
I am fully aware that by introducing "cultural competence" I might have opened the proverbial can of worms. Over the past ten years or so I have followed research and debates, studied articles and books, attended training courses and conferences (most recent e.g. SIETAR conference in the Netherlands about the topic) and it seems rather difficult for academics and practitioners alike to agree on what constitutes 'cultural competence'. Furthermore Murrell argues in the Huffington Post (Dec 2015) that "decades of debate within management education have centred on the definition and measurement of the concept known as 'cultural competence', and that it is time for us to focus on what it takes for an individual to demonstrate proficiency rather than merely cataloguing a laundry list of attributes that will never lead to consensus across industry and cultural context".
"It is time for us to focus on what it takes for an individual to demonstrate proficiency in Cultural Competence rather than merely cataloguing a  laundry list of attributes"
A Proven Intercultural Developmental Process
People leaders come to me and express the need that they truly wish to develop their ability to better manage professionals from a variety of cultural backgrounds (in e.g. multicultural teams, dispersed teams, international projects).
Over the years we have developed and implemented practical intercultural development processes that follow a number of distinct and measurable steps from assessment (where am I at present), goal setting (where do I want to be), interventions (how do I get there) to implementation (success rate /achievements) and it has proven its worth in our intercultural learning and development practice. I like to share one of those processes that specifically targets People Leaders who manage people across cultures.
"People Leaders Who Drive Outcomes Across Cultures"
One of the tools that has been invaluable in kicking off the intercultural development process for People Leaders is a validated and reliable intercultural diagnostic tool that measures a persons' preparedness for intercultural interactions; the internationally acknowledged Intercultural Readiness Check©. In our practice we have used the tool for assessing and benchmarking individuals (people leaders, executives, professionals), and also for teams and business units since the early 2000.
The tool powerfully supports our first step of the development process: the assessment (where am I at present) in which a person is asked to self-assess how they rate and review their behaviour and attitudes in a variety of cultural work settings. A persons' rating is benchmarked with over 45.000 people from across different industries, hierarchical levels, job roles, gender, and countries (IBI Net global database) and generates a personalised profile.
People's level of intercultural readiness is assessed by four intercultural competences that are directly relevant for people who are managing and working in culturally diverse contexts:
– level of Intercultural Sensitivity by rating cultural (self) awareness, and indicating attention to signals,
– level of Intercultural Communication by rating active listening skills and the ability to adjust communication styles,
– level of Building Commitment by rating ability to build relationships and strategies to reconciling stakeholders needs,
– level of Managing Uncertainty by rating openness to cultural complexity and willingness to exploring new approaches beyond the known.
Kicking of the intercultural development process with a powerful assessment tool that delivers a personal profile.
A next step in the intercultural development process is intercultural goal setting (where do I want to be) and explores what competence areas and facets are required for People Leaders who manage across cultures.
______________